GCSE Science Tutors In Cardiff
If you're looking for GCSE Science tutors in Cardiff, look no further than Tutorspot. No matter what level of current academic ability has already been achieved and the exam board that will be regulating you, our tutors are on hand to provide key preparation for upcoming exams and ongoing GCSE Science support. Calling on the services of an online or in-person GCSE science tutor will ensure you are in the best shape heading into the all important assessments. In this article, we explore why you should consider enlisting a Tutorspot tutor to help you with GCSE science.
In-Person & Online GCSE Science Tutors In Cardiff
Whether you wish to receive tutoring in-person or online, we have a selection of GCSE Science tutors in Cardiff available at any given time. Due to the obvious challenges brought about since the emergence of the Coronavirus pandemic, we are seeing more and more students opt for online tutors, to help them achieve their objectives. Those that have chosen 1:1 lessons online have seen great results, as they've been presented with the opportunity to take their studies to the next level in a Covid-secure environment safely and without distraction.
Of course, all of the tutors that are listed in our Cardiff GCSE Science tutoring directory are indeed based in Cardiff, so they are best placed to carry out in-person lessons. Here are just some of the areas in Cardiff that our tutors cover:
City Centre
Penarth
Llandaff
Cyncoed
Lisvane
Penylan
Pontcanna and Canton
Fairwater
Cathays
Ely
Creigiau
Trowbridge
However, they are also available to provide online tutoring, should you prefer to learn that way. You may prefer to have some 1:1 lessons online and some in-person, which is a system that our tutors can accommodate for. Online tutoring continues to be a gateway to success for so many students, with lessons being just as effective and the level of tutor-student interaction being just as much as it would be in-person.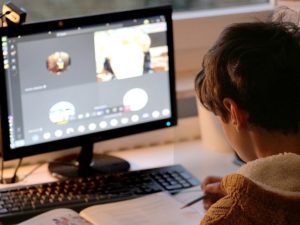 When browsing through our GCSE Science tutors, you can see key information relating to budget and areas covered, to help you pick the most suited tutor to your learning needs. Such information is presented as a preview to each tutor's profile:
Hourly rate – for GCSE science tutors online and in-person, hourly prices range from £15 to £30 per hour.
Response time – how long each tutor typically takes to respond to your initial message.
Subjects – an overview of all the subjects that each tutor is versed in.
Hours taught – how many hours of GCSE science a tutor has taught to this point.
Short introduction – information provided directly by each tutor
About Our Cardiff GCSE Science Tutors
All of our in-person and online Cardiff GCSE tutors are assessed before becoming official Tutorspot tutors. That's why, when you come to choose your teacher, you'll only find qualified private tutors and outstanding University students and graduates. We understand how important it is to have a clear revision and teaching plan at the outset, to ensure the learning process leads through to tangible results. In addition, building up a rapport with your tutor is an important part of making the process successful for you.
This is why we ensure that all our Cardiff tutors have a detailed biography on our website and why we provide students with the opportunity to send a direct message to a tutor. The messaging system is designed to enable both tutor and student to get to know a bit about each other and to form a plan of action for the study schedule, before committing. When you view the profile of one of our GCSE Science tutors and before you send your message, you'll see their availability, whether they provide in-person as well as online tutoring, and other key snippets of information. Please see an example below.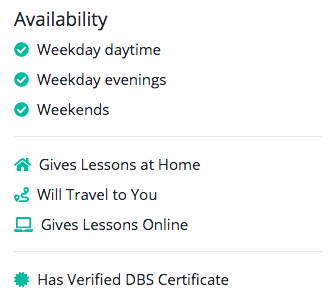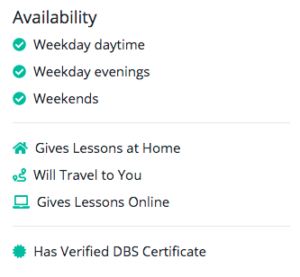 How Can A GCSE Science Tutor Help Me Achieve My Grades?
As any good private tutor will tell you, defining areas of potential improvement and acknowledging strong areas is paramount to creating a study schedule that is efficient and effective. Of course, each tutor has their own methods and ways of teaching. But, as a general rule, it is always beneficial to assess where you are currently at before assigning study time to different topics accordingly. When you have a Tutorspot GCSE Science tutor on board, you'll notice that the planning phases of your revision are improved, which ultimately provides you with a better chance of executing the plan in your exams.
Throughout every stage of the revision and exam preparation process, our tutors will share their proven techniques on how to make the most of your time. You most probably already have a revision plan in place, which can be audited by our qualified tutors. If any changes are required, these can be implemented at the start of your affiliation, before progressing onto the teaching and learning itself. If you are set on receiving assistance in the form of online GCSE Science tutoring and are working towards exams in a specific type of science, you may wish to see what our Online GCSE Physics Tutors tutors have to offer. Perhaps you require the assistance of our Online GCSE Biology Tutors or our Online GCSE Chemistry Tutors.
Find Your GCSE Science Tutor In Cardiff Today
If you have any questions for our team about how to find the perfect GCSE Science tutor for you, please do not hesitate to contact us by calling 01509 265623 or by sending an email to info@tutorspot.co.uk. A member of the Tutorspot team will be happy to help you find a suitable tutor to help you navigate your GCSE science exams. If you are set on a particular tutor and are ready to commence your private tuition online or in-person, you can book and pay for your sessions directly via the Tutorspot website today.
You may also be interested in:
Encourage Your Child's Motivation With An Online GCSE Science Tutor
Studying GCSE Biology? Our Online Biology Tutors Can Help You!